No job is too big for Euro Nordic
Last week, Euro Nordic acted as a cargo handling agent for some exciting project in the port of Rotterdam. With the assistance of the Matador 3 (a floating crane from Bonn & Mees), a gigantic RoRo-pontoon (36 x 32 meter) weighing over 800 mt was discharged from mv. AAL Kembla at the RHB terminal.
Lennart van den Steen, Forwarding Agent at Euro Nordic Logistics acted as representative and main coordinator for all cargo-handling related matters with this shipment. Together with their Agency department, Euro Nordic Logistics provides a full scope of services to various stakeholders, such ship owners, brokers, forwarders, and cargo owners. "Being a ship agent is an exciting and challenging job. Once a vessel enters the port, we coordinate everything from ordering the pilot to arranging crew related matters and/or cargo handling related matters.
Good communication is of the great essence.
During a port call we are in touch with various stakeholders who all have their own interests. We are mainly looking after our principal's interests, but we always make sure that every stakeholder can conduct their business on board properly. In the end, we have to make sure every port call goes as smooth and efficient as possible".
This project was quite challenging due to the complexity of the cargo and the logistics services that were required. After a slow start, the pontoon was discharged successfully into the water and towed and moored to a layby jetty nearby, awaiting the last leg of its journey.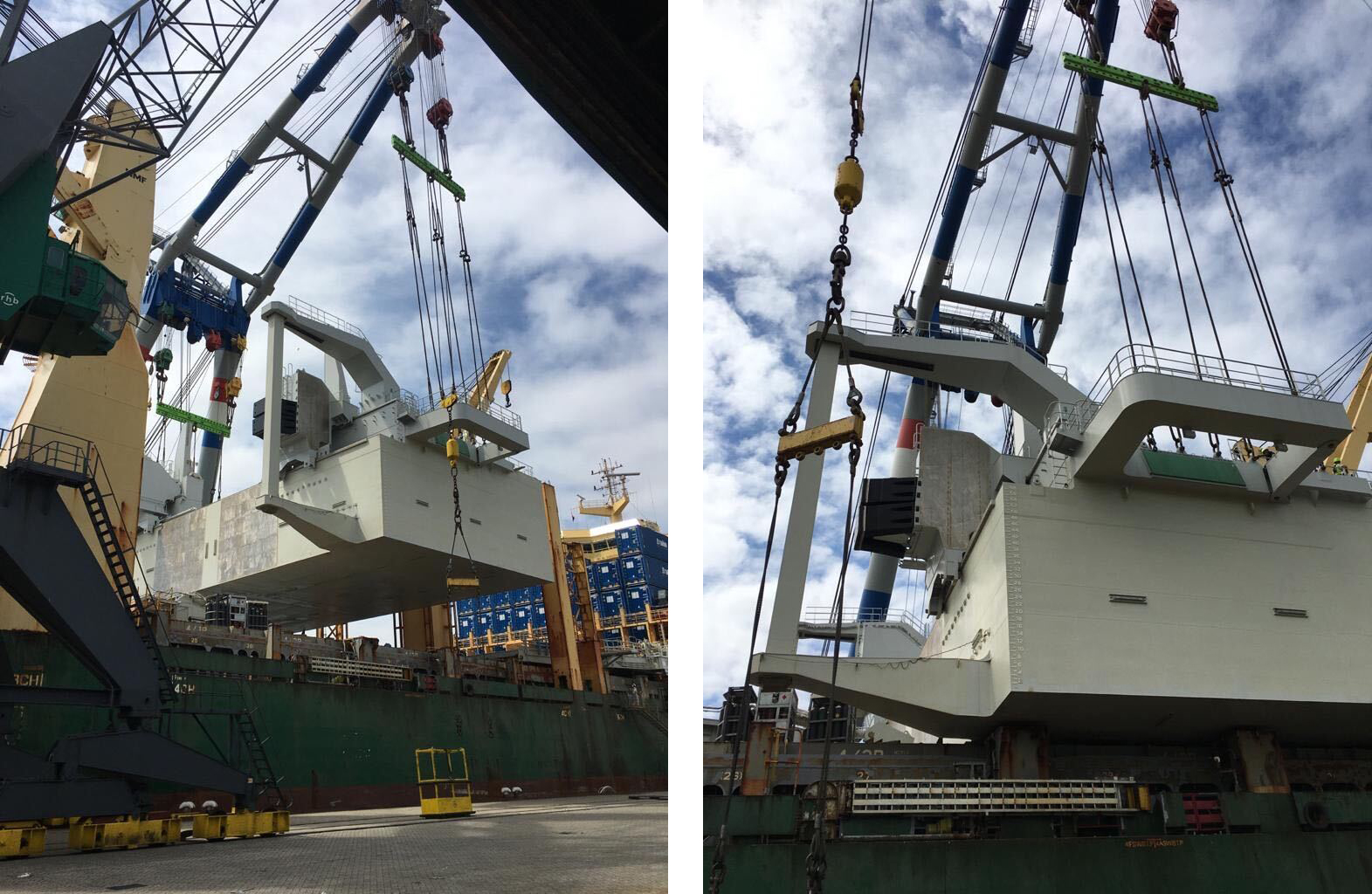 Never a dull piece of cargo
Earlier this year Euro Nordic decided to take the leap into this dynamic market. Handling breakbulk- and heavy lift cargoes can be quite complex and requires proper (pre) planning. Most important is to know the logistic process which is required for a certain cargo; who / what should be ordered when. Good knowledge of shipping terms and INCO terms is a must.
Overall; for each type of vessel and all type of cargo we have an experienced professional that is your source of information
Want to know more?
Get in touch with Lennart van den Steen for more information and the possibilities for your heavy lift and breakbulk cargoes. Lennart joined the Euro Nordic team in April 2018 and is most willing to answer all your questions.